Spa Staff

MARY A.E. STEPHENS
OWNER / LICENSED MASSAGE AND BODYWORK THERAPIST NC #7204
Mary actively began practicing therapeutic massage in 2006 after graduating from the National Massage Therapy Institute in Falls Church, Virginia.  Her skills encompass a wide range of massage modalities including Swedish, Deep Tissue, Aromatherapy, Hot Stone and Pre-Natal.  Her signature massage session involves targeted technique to release pain and tension patterns caused by muscular irritation and stress while maintaining an element of relaxation for optimal results. Mary became a Reiki practitioner in 2007 and because it was evident her clients were experiencing a deeper, more profound level of healing and relaxation, she became a certified Reiki Master in October 2012.  In 2016 she acquired a certification as an Integrative Reflexologist under the tutelage of Claire Marie Miller who pioneered the technique and is highly renowned in the massage and reflexology community.  Believing strongly in the healing power of touch, Mary feels deep gratitude to have been blessed by God with the gift and ability to bring peace and well-being to others: body, mind, and spirit.

TONI ABEE
LICENSED MASSAGE AND BODYWORK THERAPIST NC #6672
Toni Abee joined us from the Charlotte, North Carolina area in August 2015. She is a graduate of The Whole You School of Massage in Rutherfordton, North Carolina, class of 2006. Toni enjoys the challenge of therapeutic massage to ease pain for her clients who are living life to the fullest. Educating clients about the wonderful benefits of massage in all aspects of the body is her personal mission. One body at a time, she wants to share her gift and knowledge of the body to enhance lives. Having more than twenty modalities in her tool box to pull from, each massage is individually customized every time. Our bodies change daily; use massage therapy to change yours in a positive way!

MYSSI BARTLEY 
LICENSED MASSAGE AND BODYWORK THERAPIST NC #5582 
Myssi has been a Licensed Massage Therapist since 2000. She attended the Healing Arts School of Massage Therapy in Lubbock, Texas where she practiced for five years post graduation.  She relocated to North Carolina and attended Natural Touch School of Massage Therapy in Greensboro, NC.  She worked in private practice in Asheboro, NC for eleven years.  Her skills cover a range of massage modalities such as Swedish, Deep Tissue, Pre-Natal, and Facial massage and is experienced with paraffin wax and body scrubs and wraps.  She enjoys educating her clients about the benefits of massage and how it enriches their daily lives both physically and mentally.

KATHY LEONARD
LICENSED MASSAGE AND BODYWORK THERAPIST NC #13835
Kathy Leonard is a former teacher who decided to go back to school in 2013 to become a Licensed Massage Therapist.  It was one of the best life decisions she has ever made because she loves working with people and increasing their sense of well being.  She uses a variety of techniques that can alleviate everything from plantar fasciitis to back pain, but always incorporates the elements of a Swedish massage to create a relaxing and rejuvenating experience.  Kathy is skilled in the massage modalities of Swedish, Hot Stone , Pre-Natal, Aromatherapy, Reflexology, and Bamboo Fusion.

LESLIE M. PALMIERI
OWNER / ESTHETICIAN
Leslie Palmieri joined Sacred Willow Spa in January 2013 after graduating Summa Cum Laude in December 2012 from an intense esthetician program study at MillerMotte College-Wilmington.  Her studies included bacteriology, sanitation, disinfections, skin structure, diseases and disorders, facials, aromatherapy, body treatments, microbrasions, waxing, and more.  She thoroughly enjoys all aspects of the services she offers to her clients: analysis, diagnosis, hands on experience and product recommendation.  Leslie's knowledge and desire to provide clientele with the best skin care consultations and services is enhanced through the International Dermal Institute hands-on training courses and continuing education opportunities.  She is also taking Reiki and Reflexology courses to broaden her skills to benefit her clients who are interested in these service enhancements.

JENNY TERRACCIANO 
ESTHETICIAN
Jenny relocated to Calabash from the Winston-Salem area in 2014. She completed Brunswick Community College's esthetics program with honors and received extensive training on the Dermalogica product line and the incorporation of essential oils into skin therapy. Jenny joined the Sacred Willow staff in November 2016.  Her passion is educating clients on optimal skin health from spa treatments to an at home regimen. Jenny enjoys every aspect of helping all her clients feel beautiful.

WHITNEY FRINK
ESTHTICIAN
Whitney joined the staff of Sacred Willow Spa in May 2016.  She received her Esthetics License in 2011 from Brunswick Community College where she was thoroughly trained in facial waxing, microdermabrasion, eyebrow & eyelash tinting, sanitation, customized facials, and face lifting massages.  The enjoyment Whitney receives from bringing her clients to a relaxed state of mind is a reward in itself.  She believes one's skin and overall well-being can be greatly affected by a stressful lifestyle and escaping it, if only for an hour, can restore your mind and body.  Whitney stays current on new techniques and networks with others in the holistic field in order to provide the best service possible to each of her clients.

KATHY A. PAYNE
OWNER / OFFICE MANAGER / APPOINTMENT SPECIALIST 
Kathy's personality, attitude, professionalism and many years in a business industry where customer service skills were essential ensures our clients are given the attention they deserve as they learn about Sacred Willow Spa, review the menu of services, schedule appointments, purchase gift certificates and more.  Her focus is always concentrated on the client's service needs, time available and scheduling to match with the appropriate service provider.  Kathy's strong attention to detail and delightful people skills make her an invaluable asset for the client and us. Kathy periodically attends classes and seminars offered by Dermalogica to acquaint herself with the services we offer and as a way to better discuss the client's requests as she schedules appointments.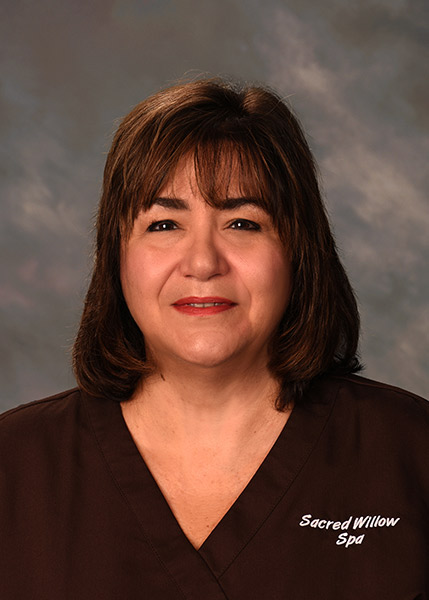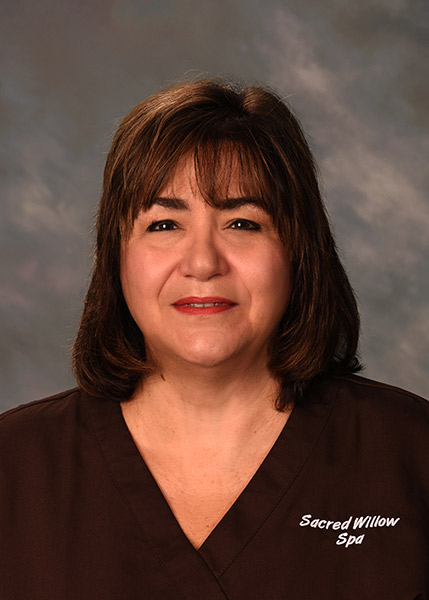 RITA BERARDO
ESTHETICIAN
Rita and her family came to Calabash from the Northeast region of the country 10 years ago and are happy to call Brunswick County "home".  When Rita first arrived in Calabash, she began a search to find a spa that provided massage and skin therapy services, but to her dismay, she found she had to travel to Myrtle Beach or Wilmington to indulge in those services.  This prompted her to begin a study in esthetics in 2008 and found a school that incorporated the Dermalogica product line, having used their products herself for over 10 years.  Now, a decade later, Rita calls Sacred Willow Spa her tome to provide esthetic services and has continued to use Dermalogica products for over 20 years because she truly believes in the results they deliver while being cost effective at the same time.  Rita loves to educate clients about their skin health and how they can incorporate Dermalogica products into their at home skin care regimen of optimal results.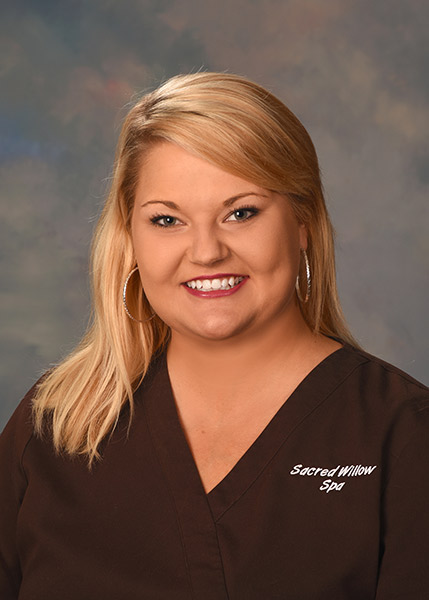 ALLIE MCDOWELL
LICENSED MASSAGE AND BODYWORK THERAPIST NC #9675
Native of Brunswick County, Allie McDowell graduated from the South Carolina Massage and Esthetics Institute 2009 and is licensed in the state of North Carolina.  Her interest in the field of massage therapy stemmed from seeing family members contend with chronic pain and saw firsthand how preventative healthcare plays an important role in everyday life.  Her skilled modalities include Swedish, deep tissue, reflexology, pre-natal, and hot stone. Aside from her career as a massage therapist, some may recognize Allie from her many years of being a local entertainer.  She feels blessed to have been gifted in two areas she is passionate about: singing and massage therapy.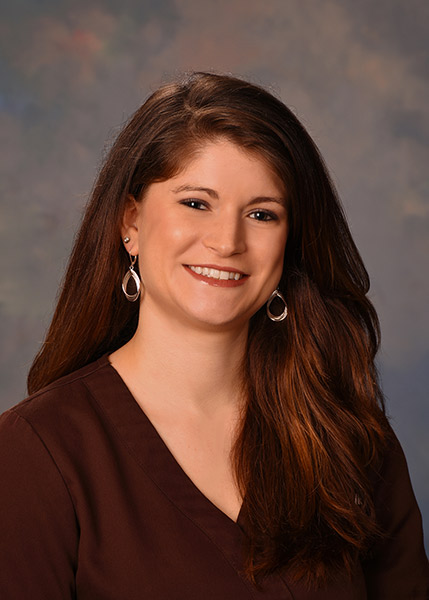 SARAH STEPHENSON
APPOINTMENT SPECIALIST
Sarah joined our team after moving back to Brunswick County at the end of 2017. She graduated from Campbell University in 2013 with a Bachelors of Arts in Communications and a specialization in both Public Relations and Health Communications. Sarah also volunteers with National Alliance for Law Enforcement Support, a non-profit organization dedicated to assisting Law Enforcement Officers and their families. She has volunteered with the organization since 2014, she sits on the Board of Directors, is the National Public Relations Director, and the National K.A.R.E. Director. Her outgoing attitude and professional experience in customer service are essential to helping our patrons feel welcomed and taken care of as they review the menu of services, schedule appointments, purchase gift certificates and more. Sarah's focus is on making sure all of our clients have a five star experience by listening to their needs and pairing them with the appropriate service provider. Sarah's goal is that every single individual leaves the spa feeling refreshed, relaxed, and happy.